A great Getting to Know You activity for your classroom takes a group of students who have just met and builds a sense of community. I remember sitting in front of my very first class. 28 Year 5 and 6 students, all sitting quietly, nervously on the mat, looking around at each other and then up at me. At that moment, I wish I had an activity to help us quickly get to know each other in a relaxed way.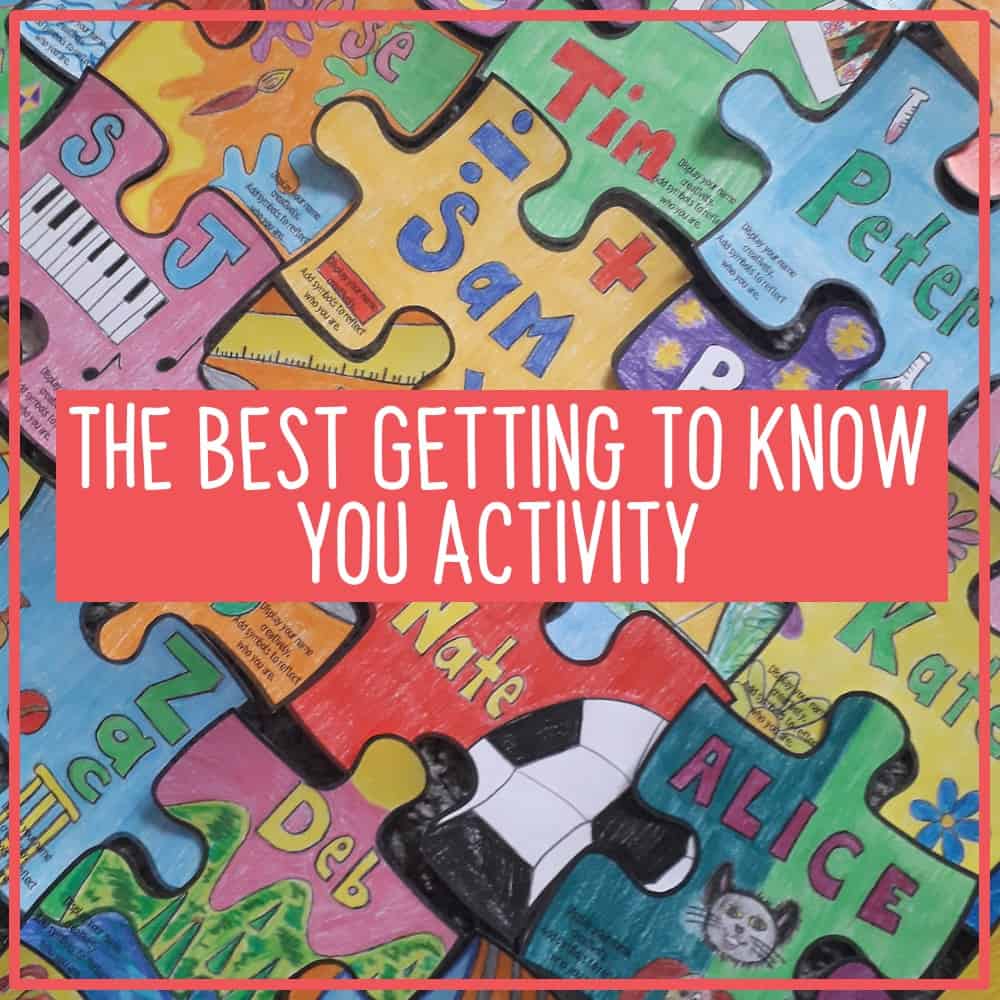 The Best Getting to Know You Classroom Activity
Our Getting to Know You Collaborative Puzzle Poster is a fantastic way to get to know your students and quickly build a visual sense of community. The added bonus is you have a stunning piece of artwork to hang on your wall or bulletin board by the end of your first week.
How I Used This Activity In My Classroom
Prior to day one, colour in your own puzzle piece using symbols to represent who you are.
To start the activity, share your puzzle piece. This is a great way to introduce yourself and show your expectation of the effort they should put into their puzzle piece.
Give each student a puzzle piece to colour in, using symbols to represent who they are.
As they are completing their puzzle piece, spend time moving around the classroom chatting with each student. I found this was a great time to ensure I got lots of one-on-one chats with students in the first few days.
Once each puzzle is completed, students cut their puzzle pieces out carefully.
One at a time, get students to stand up and share their puzzle piece and what it shows about them. This is a great chance to set your expectations for listening to someone who is speaking and gets students used to speaking in front of each other from day one.
Build the puzzle as each student shares their puzzle piece.
Once all students have shared their puzzle piece, you will have an amazing collaborative art piece!
Check out some examples of our Getting to Know You Collaborative Puzzle Poster from happy teachers! 
Our Four Getting to Know You Collaborative Puzzle Posters
The Original! Click here to see more.
The Rocket! Click here to see more.
The Hot Air Balloon! Click here to see more.
Feedback on our Getting to Know You Collaborative Puzzle Posters
Jennifer C. says, "⭐️⭐️⭐️⭐️⭐️ I'd certainly recommend this getting to know you activity. It gave my students an opportunity to express themselves creatively and they'll get to see their work posted on the wall for the remainder of the year."
Jessica A. says, "⭐️⭐️⭐️⭐️⭐️ This was a great way of getting to know my students this year! It was so amazing to see how this all fit together. It was a great way of reminding them that it takes all of us to make this classroom community work!"
Michelle H. says, "⭐️⭐️⭐️⭐️⭐️ This looked fantastic in the hallway! The students enjoyed decorating their pieces. Love the flexibility of adding on squares of 4 to make more rows as needed since we work in larger 2-person teams. Thanks."
Melissa K. says. "⭐️⭐️⭐️⭐️⭐️ I used this puzzle to create a bulletin board about my home base. It has stayed up all year and I love it so much! I will for sure do this activity again next year.. and the next.. and the next…"
Brianna H. says, "⭐️⭐️⭐️⭐️⭐️ Great back to school activity. Allows the students to get to know one another better and provides a visual representation of how our class creates a beautiful, unique picture."
I hope you enjoy getting to know your students!
Join our membership
Reclaim your time with ready-to-use, multi-level resources! Gain access to over 650 resources (and more added each week!) with our annual membership.
Learn more about our membership here.