Developing A Positive Classroom Culture: the Compliments Project
In this guest blog post, Chelsea Donaldson shares a fantastic way to develop a positive classroom culture. I first saw Chelsea speak about this passionately on Instagram and I knew I wanted her to share the project on my blog. I am sure you will get a lot of great ideas – enjoy!
It's for the reserved students.  The group of girls who are always fighting.  The boy who is the last one picked for all team games.  The class 'pretty girl', who is used to being showered in praise for her looks, but never about her true character.  This is how you bring a classroom together. Help every student to feel like they are seen, and that they are a part of your whanau. What am I talking about? The Compliments Project, of course!
What is it?
The Compliments Project was created by Stephanie MacArthur after she had shown her students the YouTube video  People React to Being Called Beautiful. Basically, it is where a student sits in front of the whiteboard in the 'hot seat', and students fill the board with compliments for the hot seater.  The look on the students faces when they turn around for their big reveal is absolutely priceless.  It brings about smiles, laughter, and even tears.
Why do it?
I decided to try the Compliments Project in my own class of twelve and thirteen-year-olds after a particularly rough term three.  Class cliques, cattiness, and low-self esteem were all far too high for my liking.   I wanted to bring the class back together and help everyone feel included. I did some frantic searching on the internet and stumbled upon the gem that is the compliments project.  
Setting the Compliments Project up for success
The degree of success you get from the Compliments Project really depends on how much you put into as a teacher.  The Compliments Project involves risk-taking and trust, so it is imperative that teachers do a bit of groundwork before giving it a go.  Students need to understand the value of the project so that they can participate fully and get the most out of the Project.
Teaching the why
I always begin the unit by helping students understand the 'why' behind the Project.  If a student doesn't see the value in the Compliments Project, there is a chance they won't take it seriously. I begin the Project off the same way that Stephanie MacArthur did.  I showed students the video People React to Being Called Beautiful.  While there is a student who uses profanity (so use your own discretion based on your students, school, and community), it is a great conversation starter.  I show the video with little context given, then we have an open discussion about why the director wanted to create such a video, and why the students reacted in different ways. 
The general consensus from the students is that compliments are important because they make people feel good.  It also helps them realise that some people may never receive compliments and that we don't know what our classmates are going through behind closed doors. As a teacher, you might need to help guide them to this understanding.  The understanding that a compliment can brighten someone's day, especially if they have low self-esteem, are very shy or have a hard home life.  This will bring out empathy, and help your students buy into the beautiful lesson you are about to create with them.
Next, I show them an example of the Compliments Project. I use the video Stephanie MacArthur created with her students, called Spread The Love Project. 
The purpose of this is to help model the process so the students have the confidence to take part in their own class Compliments Project. It can be very daunting for the students, having to take a leap and write a thoughtful compliment on the whiteboard for a classmate they barely talk to. This is why it is super important for your students to understand the why and the how of the Compliments Project.
How to Compliment
You'll also have to go through how to give a compliment.  Too often, children will just compliment others based on their possessions or appearances.  While this is ok, it is far better for a person to receive a compliment that is about their true character. So we have a class discussion of other things we can compliment our classmates on. I also have this displayed during the Compliments Project, so students can refer to it if they need help coming up with a compliment. I do allow students to compliment on appearances. However, I ask that they are specific about it. For example, is it their eyes that are stunning? Their beautiful smile that lights up their face? Or is it their stylish fringe?
The Compliments Project in action!
Hot seaters and writing compliments
For the activity, you need a whiteboard, chair, and plenty of whiteboard markers.  First up, you choose a person to be in the hot seat. Next, your class begins to write compliments up on the board! Personally, I send students out of the room while the rest of the class writes compliments on the board. The reason for this is because sometimes it involves a lot of encouraging and motivating to continue to fill up a whiteboard. Otherwise, you can have your hot seater sat facing away from the whiteboard with their head bowed.  This is where your inner cheerleader/hype-man must come out.  The Compliments Project involves quite a bit of risk, for both the hot seaters and the rest of the class writing compliments on the board. 
Some students may feel awkward about writing compliments. So bring lots of enthusiasm and encouragement. Add your own compliments to the whiteboard, and scaffold the struggling students. For example, you could say "What is something that Sarah is good at?", or "Remember that time that Tom helped you in math? How could we make that a compliment?".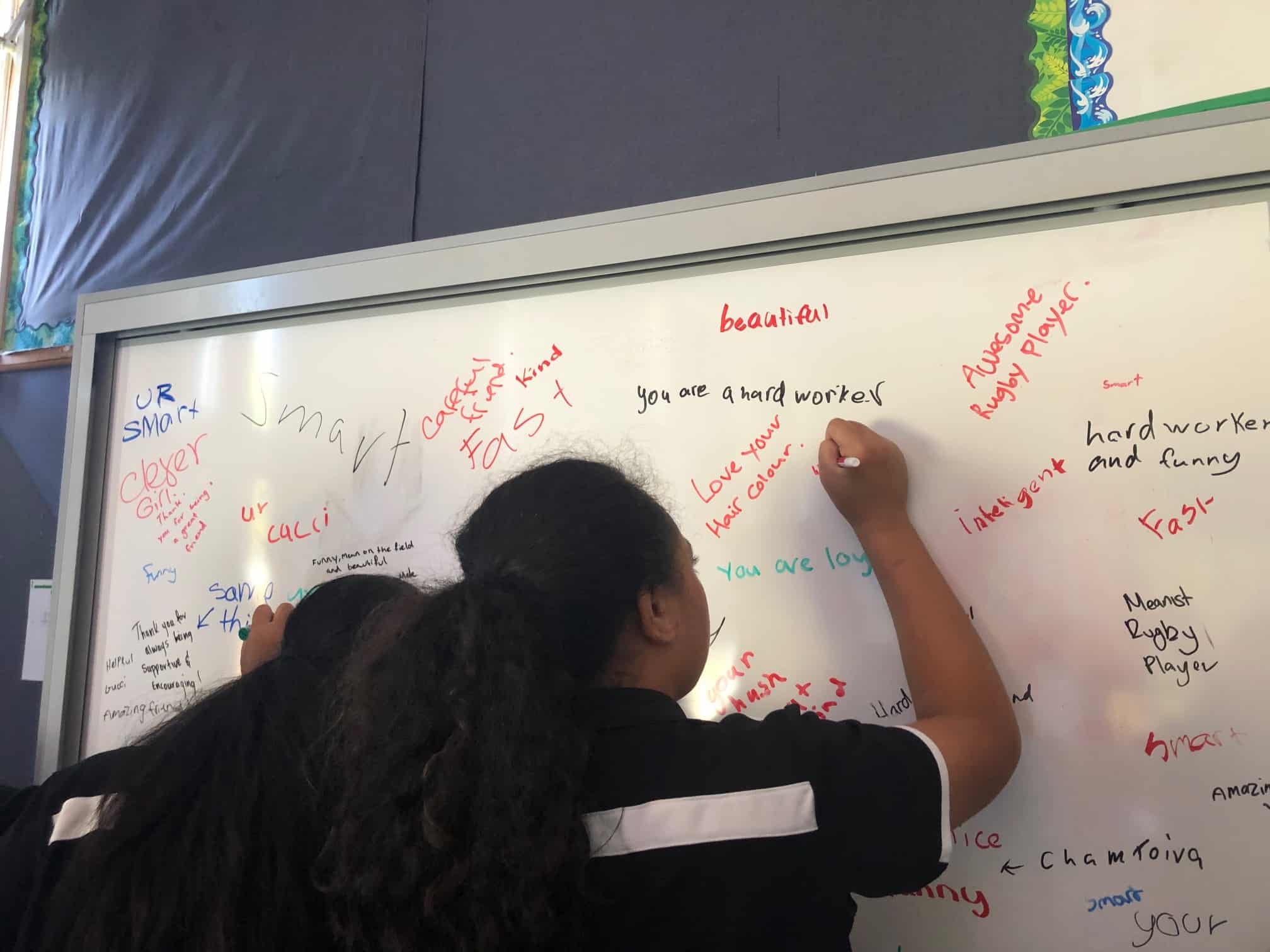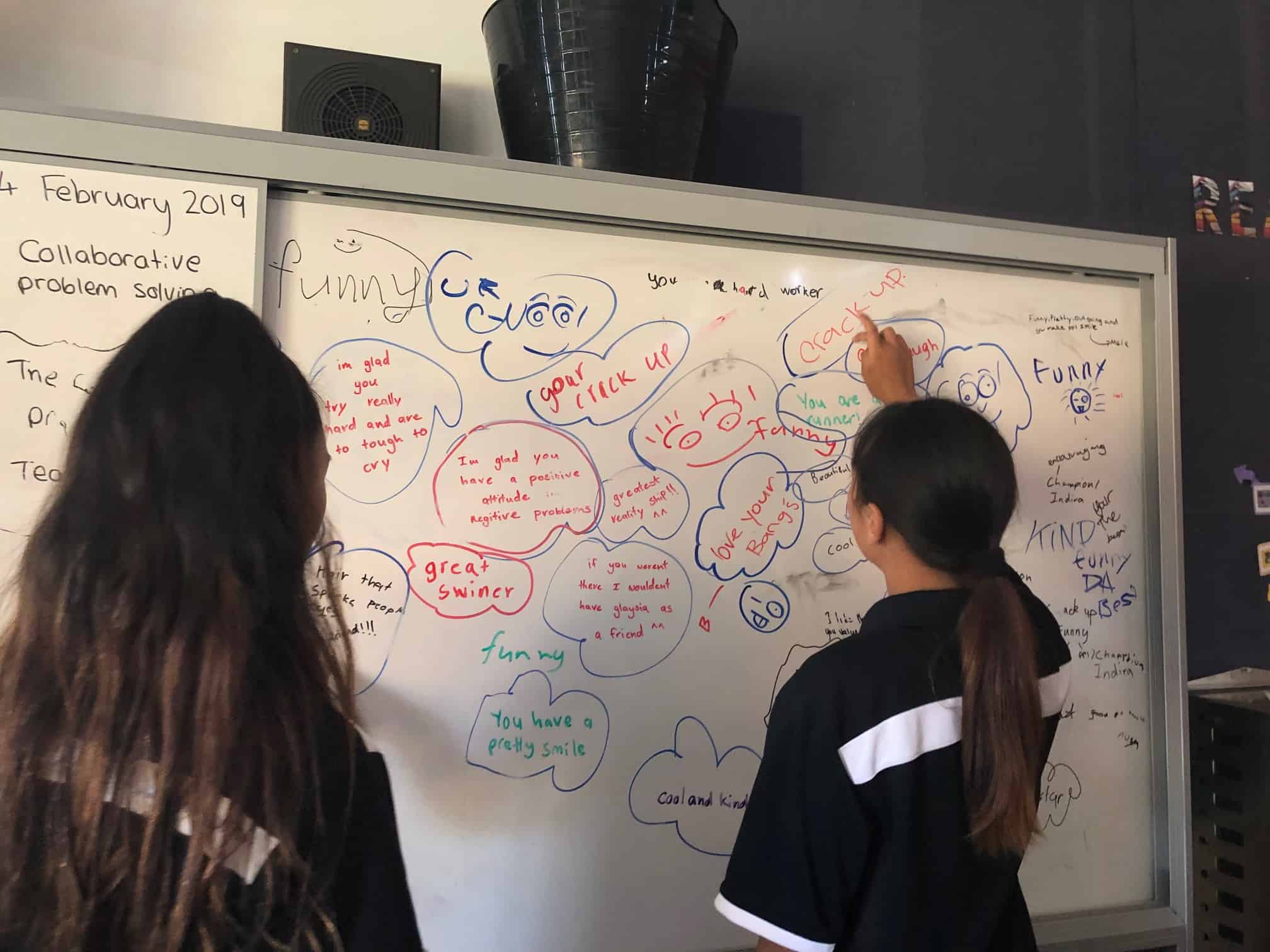 The reveal
Now for the most exciting part… The reveal! Again, this can sometimes be a nerve-wracking time for some students. Before your first reveal, make sure you cover expectations regarding what will happen, and how the rest of the class should behave.  In my classes, we have a discussion, and students understand that it's a time to be quiet and let the hot seater have 'their moment'.  There is no talking or roaming around the classroom.  The class watches quietly and respectfully in a semi-circle around the whiteboard. l I also remind them that if their friend is a hot seater, they are welcome to come up and support them while they read their compliments.
The hot seater comes into the classroom with their eyes covered, and they sit in the chair facing away from the whiteboard. When they're ready, they turn around and read all the compliments. As their teacher, I often read some of the compliments aloud to them, because sometimes there's so much to look at that the students don't know what to do. I also encourage classmates to come up and point out some compliments too, who are also there as a shoulder to cry on, or for a quick hug of support. I've seen awkward giggles, tears, and beaming faces during the reveal. It is a very emotional time for the hot seater.
The effect of the Compliments Project
I will never forget my first time doing the comments project. Many tears were shed, and hugs were shared. The quiet students found that they were noticed and that classmates had plenty of kind things to say about them. The "class clowns" and "pretty girls" realised that people saw there was more to them than their jokes or good looks. The classroom became a true whanau, everyone felt safe and included. 
I have two memories that stick with me the most.  One was for one of my 'popular' year-eight students.  She was a beautiful, intelligent, and talented sportswoman.  Naturally, her whiteboard was completely full of compliments. But what was the one that made her burst into tears? The compliment that read "You are my role model". 
My second memory was from a quiet, reserved year-seven boy. He was always quietly helping others, never taking the spotlight amongst our class of boisterous and confident year eights. Upon reading his compliments he too shed many tears. His friends came up and hugged him, and from that day on he had broken out of his shell.  He wasn't as quiet anymore. He would crack jokes and grin with the most infectious smile.
The compliments project has the power to bring your class together. It truly has the power to change a student's life. You never know what is happening in a child's life behind closed doors, so the Compliments Project helps every child to understand that they are safe, included, and cared for in your classroom. 
I hope your students love the Compliments Project as much as my students have!
Watch this video to see the Compliements Project in action – thanks to the students of Glen Innes School.
About Chelsea
Chelsea is a fifth-year teacher from Auckland, New Zealand who loves teaching upper primary and intermediate. She is currently on maternity leave. You can follow her Instagram here: @theminiaturemama.
See more from our beginning teacher series
Back to School Starter Kit
Our Back to School Starter Kit contains everything you need to get your classroom set up and ready for day one. This resource includes classroom decor and display materials, literacy and social studies activities, early finishers and team building activities, and more!
Print, photocopy and laminate these resources and then put your feet up knowing you are ready for day one! You'll also save with our generous discount (25% off!). See more here.
Be ready for Day One with our Classroom Essentials
Are you a part of our membership yet?
Click here to learn more about our awesome membership!