Using Collaborative Activities to Explore Waitangi Day
Collaborative activities are the perfect way to explore Waitangi Day and the Treaty of Waitangi
.
With Waitangi Day commemorated at the beginning of the school year, our resources help you to cover this important part of Aotearoa New Zealand's history while it is front and centre in your students' minds.
In the first weeks of the school year, you may be getting to know your class, testing students, juggling the swimming timetable, and not yet using fixed reading or maths groups. That's fine – it's the start of the year and there is plenty of time for that. What you need is collaborative activities that get your students working together, talking together, and learning… you guessed it – together!
What are Collaborative Activities?
Collaborative activities are any activities where learners are working co-operatively in pairs or groups. For example, pair or group discussions, drama and role-play, and competitive group games.
There are a lot of advantages to using these kinds of activities.
Collaborative activities combine many skills
Collaborative activities require teamwork. At the beginning of the school year, collaborative activities can help to break the ice and get your students interacting together and getting to know each other.
Another benefit of collaborative activities is that they encourage speaking and listening skills. To collaborate and work together, students need to speak to each other AND listen to each other. Speaking and listening to each other are skills that need to be practiced and developed, and collaborative activities are a great chance for students to work on these.
Collaborative activities help to develop students' problem-solving skills. When working together on a challenge or team task, students need to use their creative and critical thinking skills – both important 21st-century skills!
Collaborative activities give everyone a chance to succeed
A great advantage of using collaborative activities is that they are a way to provide differentiated activities. For example, a good reader can read the task, a good drawer can draw the picture. Through working collaboratively, everyone is included and students can use their strengths.
Achieving success early in the school year also gives your students a positive experience of learning in your classroom – that's a win-win if you ask me!
Our Collaborative Waitangi Day and Treaty of Waitangi Puzzle Posters
Engage your students in Waitangi Day Commemorations and learn about New Zealand's founding document with our interactive Treaty of Waitangi puzzles. Your students will learn about the history of Te Tiriti o Waitangi, the history and traditions of Waitangi Day, the Maori chief Hōne Heke, the impact of the treaty, and how Waitangi Day is observed now.
The great thing about these puzzles is they can be completed as a collaborative task. Students can work together in groups to read the text or fact cards and then choose puzzle pieces that fit their strengths. Once all puzzle pieces are completed, each group can put together their puzzle and display their work with pride! Click here to see more.
Our Collaborative Waitangi Day and Treaty of Waitangi Stations
The purpose of the Treaty of Waitangi Stations Activities is to explore concepts and ideas of the Treaty of Waitangi and Waitangi Day through an engaging and collaborative format. Set up the stations around your classroom (or around the school), get your students into groups armed with a device, and let them loose! 
Working together, students will complete:
A freeze-frame drama activity
All the best for seeing your students grow through collaborative learning!
Teach The Treaty of Waitangi Across the Curriculum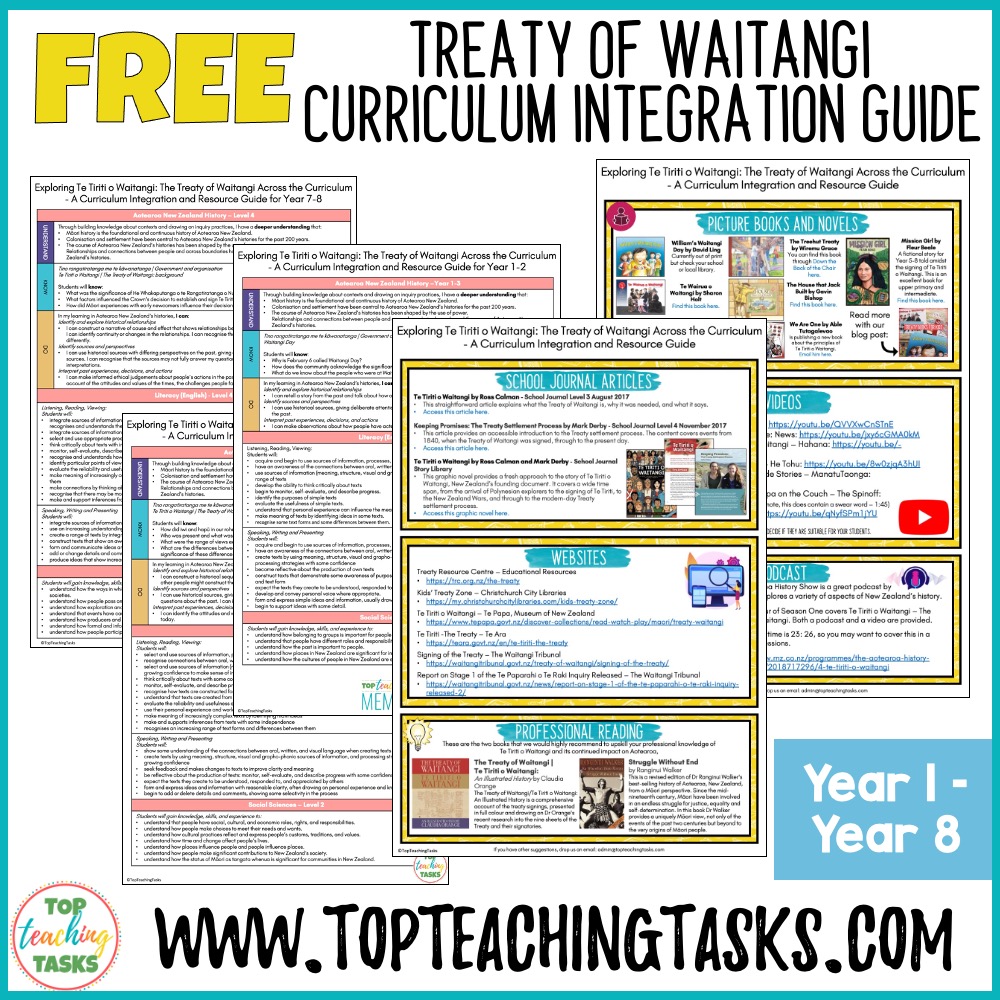 Learn more about how to teach the Treaty of Waitangi Across the Currlculum with our new FREE curriculum integration guide.
Click here to download this resource instantly.
New Treaty of Waitangi Resources
In this blog post, I share how our resources help you to cover specific progress outcomes related to Te Tiriti o Waitangi – The Treaty of Waitangi.
Have You Seen Our Membership?
Save your time and provide your students with creative and comprehensive reading, social studies, and language comprehension resources. Sign up today.