5 Reasons To Use Digital Task Cards
Digital Task Cards are a great way to engage your students in 21st-century learning. Read on to learn 5 Reasons to use Digital Task Cards in your Classroom!
What are Digital Task Cards?
Digital Task Cards are paperless task cards used on digital devices such as Google Slides, iPads, laptops and cellphones. They can easily be shared to your students and accessed wherever your students have access to the internet and their device. The flexibility of this form of resource makes it suitable for 1:1 device classrooms, BYOD (Bring Your Own Device) Classrooms, and classrooms with access to some devices throughout the school week.
1. Build a skill base with 21st-century learning tools
21st-century learning tools include collaboration, creativity, communication and critical thinking. There are possibilities for incorporating these skills into your classroom through the use of digital task cards.
Collaboration: These kinds of activities can be used in small groups to encourage flexibility and cooperation. Students can be encouraged to use their initiative and be responsible for their independent and group learning.
Creativity: These cards can be linked to the internet (a hive of creativity). Therefore, your task cards can be the base point for the exploration of creative ideas and tools for creativity, in both thinking and the presentation of learning.
Communication: When using these kinds of cards, students communicate their ideas, responses and answers through digital media.
Critical Thinking: A major part of critical thinking is problem-solving, which can easily be integrated into digital task cards. Set your students an open-ended problem and see their ideas flourish as they use online tools to solve the problem and communicate their ideas.
2. Digital Task Cards are flexible
One of the best reasons to use digital task cards is their flexibility. You can modify the task cards for any level. All you need to do is change the pace of using them in your classroom.

Before sharing the task cards with your students, you have the option of sharing all or some of the task cards with your students.

You could assign particular cards to various groups during a session OR give the students the choice of which ones they use.

These cards are also great for use as early finishers activities. The next time you have a student ask you, "I'm done. Now What?" all you need to do is share with them some task cards. BOOM! Boredom over.

Since students can access these task cards anywhere, students could use these activities as homework tasks, or as an extra boost over holiday breaks or the summer holidays.
3. Use on a range of devices
With digital task cards, you are not hampered by needing a specific digital device. Not all schools have one particular brand of computer or laptops. While some schools have iPads, other schools have a BYOD (Bring Your Own Device) system where any digital device could be used. Thankfully, with digital task cards, there are many options.
You can use the cards on a range of digital devices such as Chromebooks, iPads, laptops, and tablets. You can also use the cards on a range of educational apps including:
Google Slides
Seesaw
Microsoft One Drive
Schoology
Notability
Edmodo
Canvas
Evernote
4. A paperless resource
Step away from the photocopier, put away your laminator, and stop worrying about that lost task card – we are going digital! One of the best things about digital activity cards is that they are paperless! That is a big tick for the environment and a big tick for user-friendly activities. It is really easy to reshare a lost or deleted digital card (and to show students how to locate deleted slides themselves).
Another great part of paperless task cards is they can be taken out of the classroom. Students can share their work easily with their family at home and even work on their activities at home (dreams are free).
5. Easy to share, give feedback and grade
As I have said previously, it is easy to share your cards with students. They can then access this on a range of devices and from anywhere with internet access. Using Google Classroom, you can also monitor, give feedback and grade your students work. This feature gives you the flexibility to give feedback and mark students work wherever you want (with internet access of course).
Try our Digital Task Cards
We have a great range of digital task cards that feature all the benefits listed above!
Did you say freebie?
Get our free set of Figurative Language Digital Task Cards by signing up to our newsletter. Click here to get yours today. These can be used on a range of digital devices and apps such as Google Slides, SeeSaw and Microsoft OneDrive.
Join our membership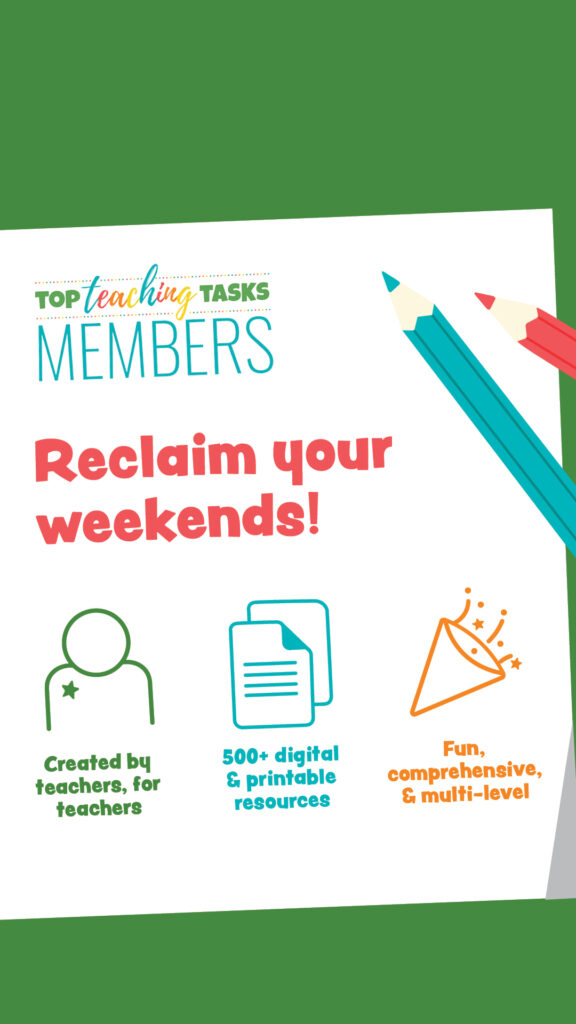 Onwards and upwards,