The world has been thrown into some crazy times due to Covid-19, but that shouldn't mean that your students miss out on Anzac Day learning! You can explore Anzac Day through distance learning in a way that is engaging, fun, and extremely impactful for your students. With Anzac Day events cancelled throughout New Zealand, Australia, and Turkey, use the ideas below to ensure your students can still commemorate Anzac Day while learning from home.
Introducing Anzac Day through videos
One simple way to explore Anzac Day Through Distance Learning is by sharing videos with your students. The following videos would be great to share with students via Seesaw, Google Classroom, or directly to parents via email.
The following video gives some clear background information on ANZAC Day and its importance to both Australia and New Zealand.
"What is Anzac Day?" – Video running time: 2:08
The Battle of Gallipoli has special significance for New Zealand, Australia and Turkey. The following video by BTN (Behind the News) looks at this important, and tragic event.
"Here they come – A day to remember" – Video running time: 7:00
The Australian Department of Veteran's Affairs has put together a fantastic video to teach students about commemoration. I love the mix of photographs and animation.
Powered by Embed YouTube Video
Explore Anzac Day through Virtual Picture Books
With the very short notice that teachers received before leaving for lockdown, it is likely that you may have left your favourite Anzac Day picture books at school. It isn't as easy as popping down to the local library to grab a copy either. Thankfully, there are some wonderful Anzac Day picture books available via Youtube.
I've put together a free resource that provides links to three Anzac Day story videos. The links actually take students to SafeYoutube.Net which is a great site that plays Youtube clips without highlighting other youtube video links (sometimes there is some weird stuff available out there in Youtube land…).
Three picture books that we recommend are:
My Grandad Marches on Anzac Day
Anzac Ted
The Last ANZAC
You could email this freebie directly to students, and because of the QR codes, they can access the videos without needing to print anything. You also have my permission to share these QR code links on SeeSaw, school websites, or through Google Classroom. I'll also add the videos below for you to check them out.  Click on the image below to download this freebie now.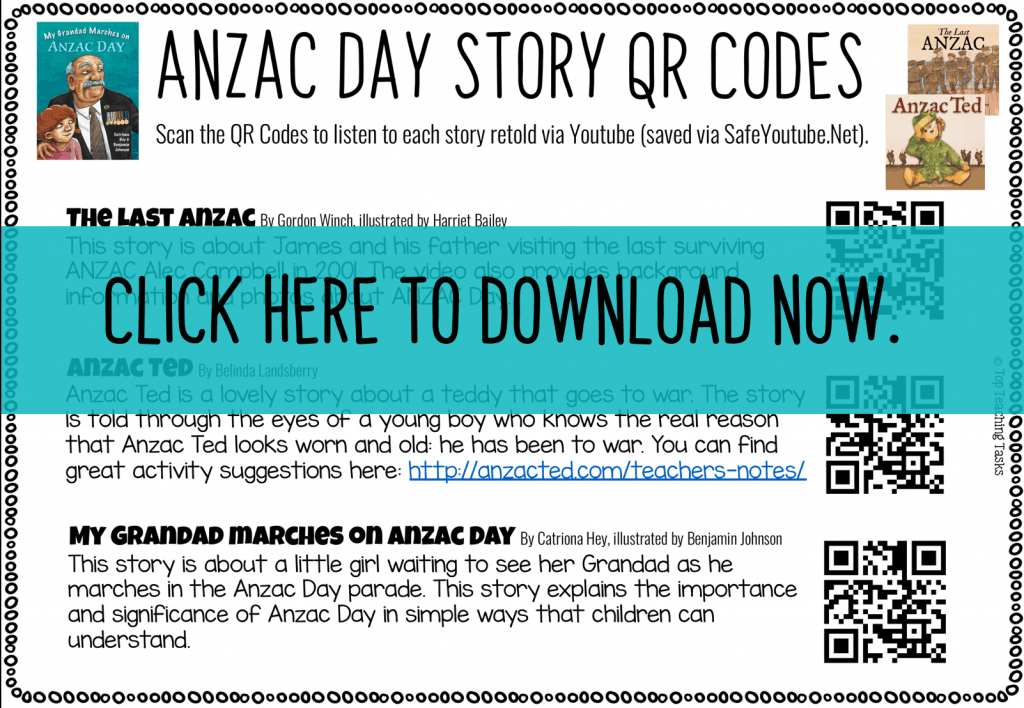 "The Last Anzac" – Video running time: 4.28
"Anzac Ted" – Video running time: 3:10
Powered by Embed YouTube Video
"My Grandad marches on ANZAC Day" – Video running time: 3:54
Powered by Embed YouTube Video
Explore Anzac Day using web links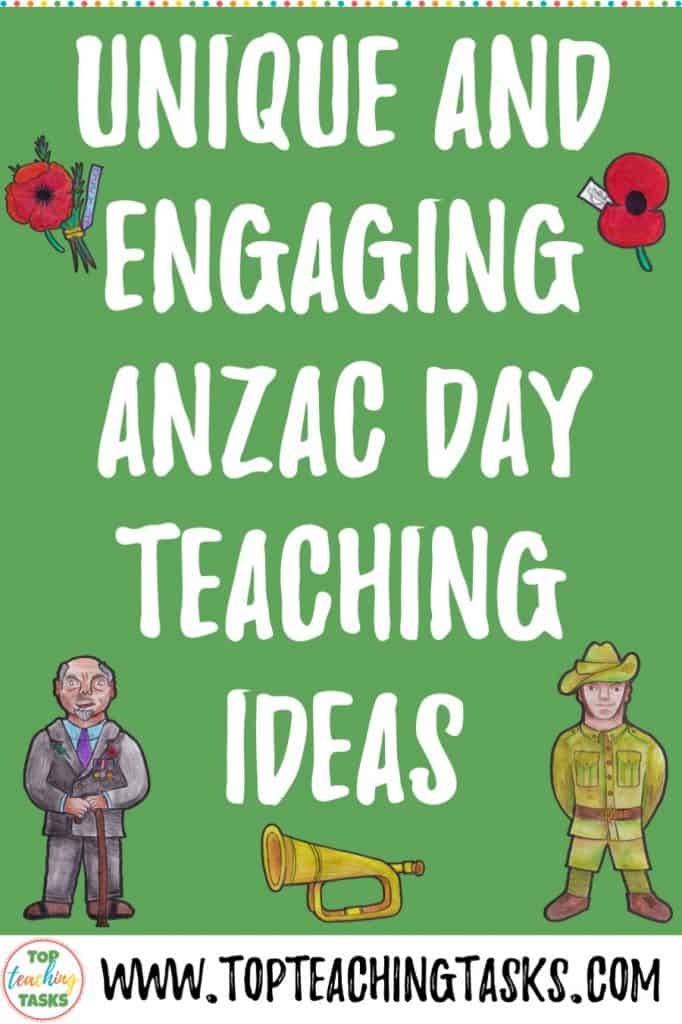 I previously put a blog post together that highlights interesting ANZAC Day themed weblinks and resources.
This includes Australian and New Zealand web links to:
Research local war memorials
Search for a soldier
Take a virtual trip to Gallipoli
You can read the blogpost and check out the links by clicking here.
Explore Anzac Day with Digital Reading Activities
Go paperless with our Anzac Day Digital puzzle poster resource. Your students will learn about Anzac Day's history, the battle of Gallipoli, the significance of poppies and rosemary, how the day is celebrated today, and more! This resource features a full resource for both Australian and New Zealand classrooms. Students complete activities to earn puzzle pieces and produce a beautiful Anzac Day puzzle poster. Click here to learn more about our Digital Anzac Day Scavenger Hunt.  
Powered by Embed YouTube Video
I also recommend checking out our Anzac Day Digital Interactive Reading Activities. Featuring differentiated reading passages and questions, this Google slides resource includes four passages (at two levels) with six-eight unique slides of engaging text-dependent questions and higher-order thinking interactive tasks. Click here to see more.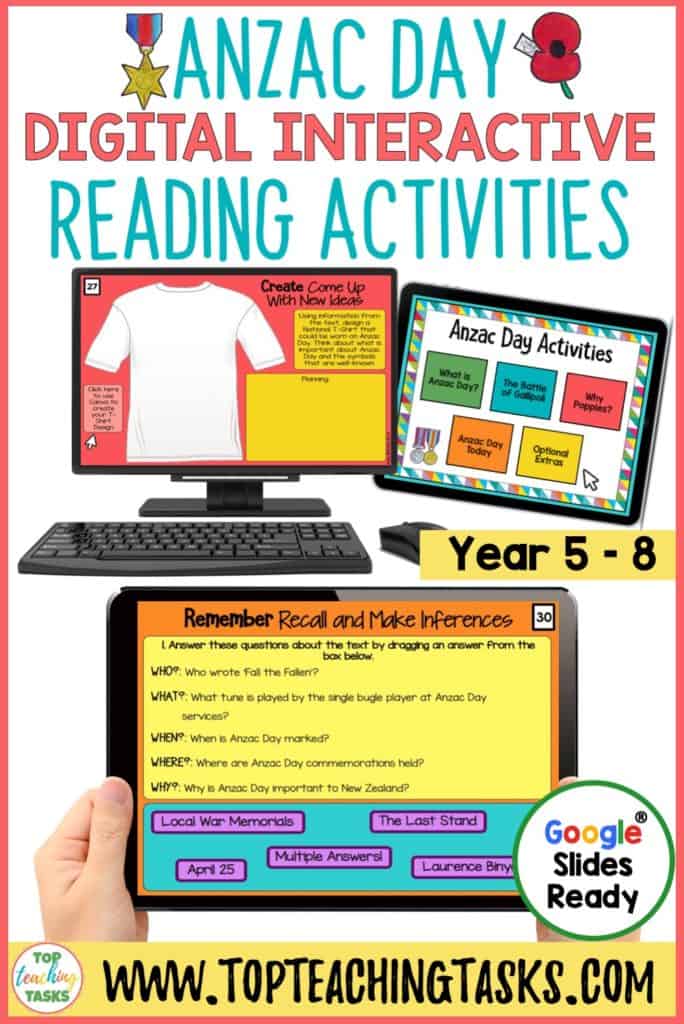 Powered by Embed YouTube Video
What about students who can't access the internet?
This Anzac Day 3D Poppy Activity is a wonderful craft and learning activity that would be great fun to complete at home!
You can see our full range of Anzac Day resources here. 
All the best for your Anzac Day teaching this year. Thank you for ensuring that this important event isn't missed or forgotten in 2020.
Onwards and upwards,