Engaging Ways to Teach Parts of Speech In Your Classroom
If you are going to Teach Parts of Speech in your classroom, it can either be a snooze fest or an engaging time where students retain the information. It is important to understand the different parts of speech to know how words can and should be used together to make sentences. Also, understanding the parts of speech helps students to use punctuation correctly in sentences.
Keep reading to learn about each of the parts of speech and engaging ways to teach parts of speech in your classroom
The eight parts of speech are nouns, pronouns, verbs, adjectives, adverbs, conjunctions, prepositions, and interjections.
The eight parts of speech
A noun names a person, place, thing or idea e.g. classroom, paper, cat, girl, honesty, swimming. Proper nouns name individual people (Peter, Mary), places (Texas), and others (Sunday, March, Easter). Proper nouns are the names of people or places and are written with capital letters. Common nouns are nouns without capitalisation (phone, car, tree).
A pronoun is a word used instead of a noun. Personal pronouns refer to you, me, and other people (I, me, you, she, us, them).
Verbs are "doing" or "action" words (run, swimming, hop) or words that describe a state of being (is, was, were). Auxiliary verbs join other words to form verb groups (have swum, will go to the park).
An adjective is a word that describes a noun or pronoun (the green grass, the scorching sun).
Adverbs are words that add meaning to verbs, and adjectives (He walked slowly, I went there yesterday). 
Prepositions are words that tell us the position of one thing in relation to another (by, on, in, at, Mary ran beside the sea).
Conjunctions are joining words. They join words, phrases, and sentences together (I was wet, so I got changed. I will have cream, but no sugar). You'll learn all about these while teaching sentence structure, particularly compound and complex sentences.
An interjection is a part of speech that usually has no grammatical connection to the rest of the sentence but rather expresses emotion from the writer. Interjections often use exclamation marks (Wow! Oh my gosh! I stubbed my toe, ouch!)
Parts of Speech Posters
Display each of the eight parts of speech in your classroom with our bright and colourful Parts of Speech posters.
Parts of Speech Digital Activities
Go paperless with our Google Slides-ready Parts of Speech Digital resource! These activities feature 52 interactive slides for students to work through. Learn and practice using nouns, pronouns, proper nouns, adverbs, adjectives, conjunctions, prepositions, relative pronouns, relative adverbs, modal auxiliary verbs and prepositional phrases. Develop your students' understanding of the important parts of speech. Click here to see more.
Check out this short video to see our Digital Parts of Speech Activities in action.
Literacy Skills Activity Packs
If you are looking for a way of exploring the parts of speech within a wider writing skills resource, check out our Literacy Skills Activities. These come in Year 3-4, Year 5-6 and Year 7-8 packs.
Did you say freebie?
This parts of speech freebie is a fun and effective way for students to learn about the various parts of speech. You could either do this a whole class and build a giant puzzle for your wall or activity sheet, or keep the puzzle small and use it as an individual activity.
Sign up for our email newsletter and this freebie, along with many more, is all yours! 
You May Also Like:
Click here to see this membership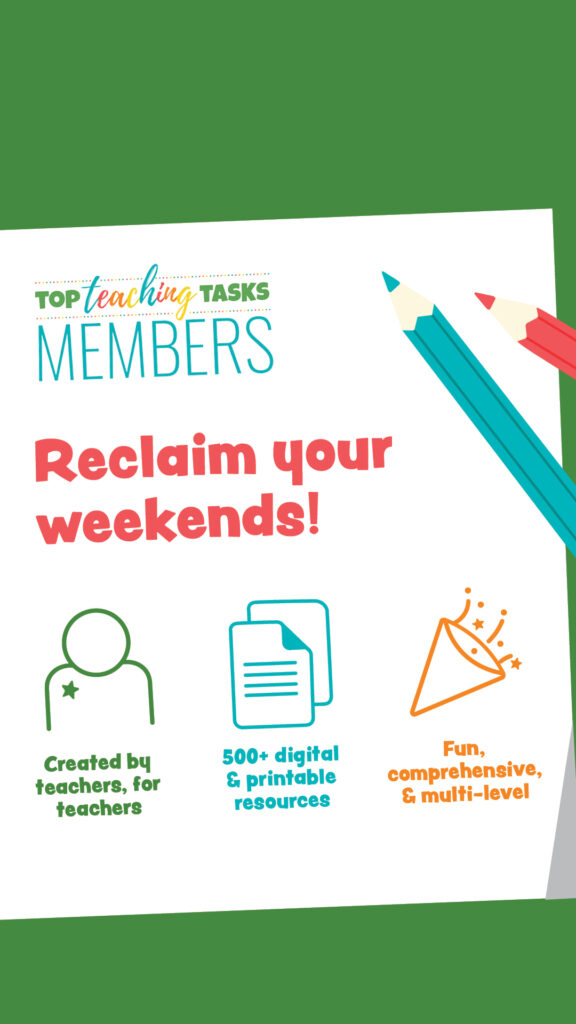 Onwards and upwards,