Activities for Teaching Figurative Language
I love teaching figurative language! It can be a really fun way to encourage students to make their writing come alive. It also makes the writing process more interesting for them, and the end product more interesting for others to read! This blog post looks at activities for teaching figurative language, including videos, mentor texts, and digital tools.

When I use the term "Figurative Language", I am referring to any use of language that goes further than the literal meaning of words themselves. Popular examples of figurative language that we teach in primary and intermediate schools include similes, metaphors, alliteration, personification, hyperbole, onomatopoeia, idioms and proverbs and adages.
In this blog post, I am going to have a quick look at why we teach figurative language, highlight some interesting ways to explore figurative language and give you some texts that you could use with your students to explore figurative language. And of course, there is a great figurative language freebie if you read through to the end!
Why do we teach figurative language?
As students progress in their writing, we want them to extend their use of language. in poetic and narrative writing, figurative language can help with our aim for students to "show, not tell" and to paint a picture with their words. Figurative language, used well, can help a reader to:
More clearly visualise a setting.

Understand the motives and appearance of a character.

Be caught up in the action of a story.
In New Zealand, the
Literacy Skills Progressions for the End of Year 4, Year 6 and Year 8 for Writing
all expect that students are using figurative language to convey ideas. The popular
e-asTTle
assessment features elements of figurative language in the vocabulary matrix at the higher levels. If students are using figurative language correctly in their writing samples (and hopefully throughout their general poetic and narrative writing), they are assessed as being better writers.
Use Videos to Help Introduce Figurative Language
Videos are a fun and visual way to introduce new concepts and there are some fantastic videos out there to explore figurative language. I hadn't considered teaching figurative language with songs previously, but as you can see below, this would be a great way to hook students in!
One place you must check out is
Flocabulary
. They have some wonderful videos that illustrate figurative language techniques.
What is Hyperbole – Running time: 3.25
Their
onomatopoeia
video is also worth a look! You can sign up to a free trial to check out more.
Youtube is also a great place to hunt out figurative language videos. In my quest to save you time, I've added some of my favourite videos below for you to check out.
Similes in Pop Culture (for kids) – Running Time: 6.49
"Similes and Metaphors" by The Bazillions – Running Time: 2.59
Figurative Language Explained – Running Time: 1.58
Use Mentor Texts to Explore Figurative Language
A great way to help your students explore figurative language is to become a figurative language detective. Set up a chart similar to the one below and hunt out elements of figurative language as you read mentor texts.
Your school or public library is filled with books for teaching figurative language. Below, I have identified a wonderful book and a range of poems (available online for anyone to download).
These are a great starting point for exploring figurative language. If you have a go-to book for teaching figurative language, please let me know in the comments and I will add it to my list.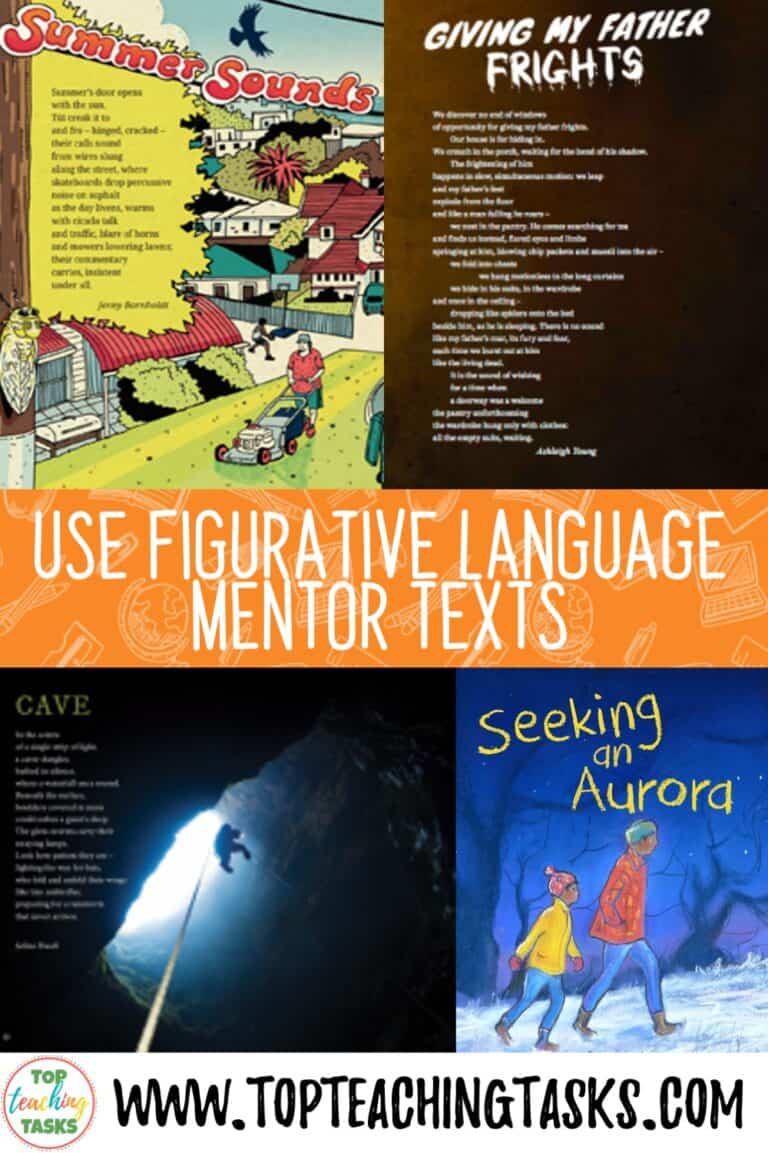 Seeking an Aurora by Elizabeth Pulford and Anne Bannock
Firstly, this book is stunning to look at. The illustrations are amazing! But I digress… The figurative language is easy to spot in this wonderful book and the vivid descriptions show what good language can do to a piece of writing. A couple of examples:
'…my breath huffed little ghosts while high above sailed the sky, a ship of shivering stars.'
'…the moon glinting between the trees like a curved splinter of glass.'
Buy this book here (not an affiliate link).
The New Zealand Schools Journals feature fantastic poems that are often overlooked as we focus on the articles and fictional stories in our reading programme. These poems are a great source of figurative language and could be used as mentor texts for figurative language hunts! One great aspect of the School Journals is that from 2013, they are available as PDFs.
Here are some of my favourites poems that feature figurative language:
My Figurative Language Activities
Go paperless with our Google Slides-ready figurative language digital writing resource! These activities feature 48 interactive slides for students to work through. Due to their mostly open-ended nature, many slides can be used multiple times! Develop your students' ability to use devices such as alliteration, similes, metaphors, idioms, personification, hyperbole, onomatopoeia, synonyms and antonyms. Click here to see our Figurative Language Digital Task Cards.
Our Figurative Language Activities feature activity sheets, task cards and posters. These activities and displays will ensure retention of each skill while encouraging the use of figurative elements in your students' writing. Click here to see our Figurative Language Activities.
Independent Literacy Activities
The purpose of our Independent Literacy Activities resources is to provide activities for your students to complete while you are working with other groups. choices are provided to give your students agency, and a range of activities are provided so students can practice a variety of important literacy skills. Activities include reading, writing prompts, figurative language and other word work activities, and a range of creative challenges that require higher-order thinking.
Did you Say Freebie?
Sign up for our email newsletter and this freebie is all yours, plus many more. Click here to sign up now.
Join our membership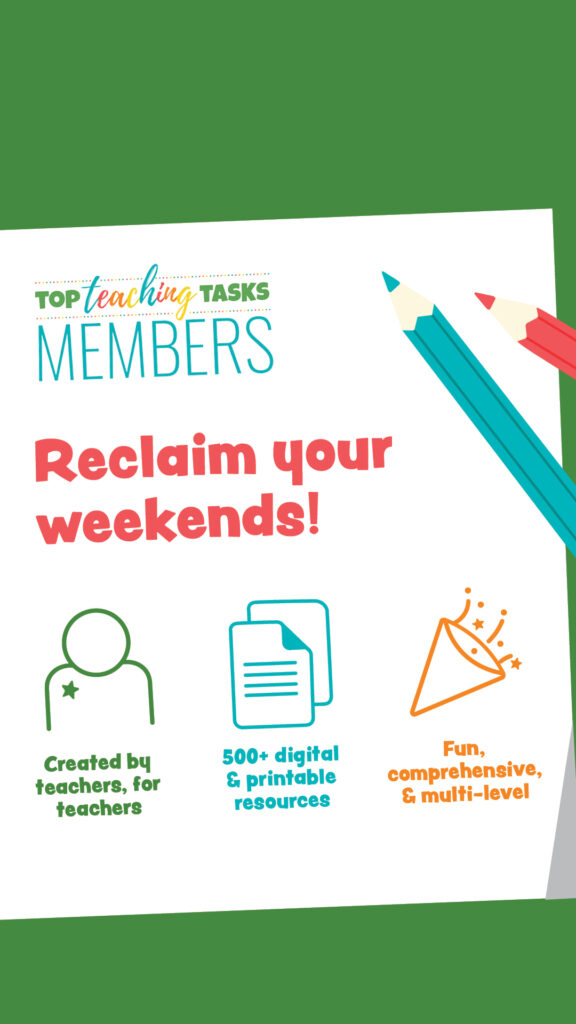 Onwards and upwards,