Mother's Day Activities for Your Classroom
Mother's Day Activities for Your Classroom
As teachers, we are reminded that our students are somebody's whole world. While we may occasionally feel frustrated or overwhelmed by their behaviour, each of them is a special child with many gifts. It can be easy at times for teachers to forget about the family that has built each and every one of these children. So, holidays like Mother's Day give us the perfect opportunity to build upon those relationships being developed at home.
As we near Mother's Day, it is important for our students to have time to recognise and appreciate their mothers (or other special people in their lives). After all, research shows that students perform best when they are invested in the topic of discussion. It is hard to think of anyone more special to most students than their parents or caregivers.
I've put together a comprehensive list of ideas for celebrating Mother's Day. Each of the following ideas is engaging while also educational.
Please note: Please be sensitive to those students in your classroom who do not live with. or have a relationship with. their mother. This does not mean that you need to avoid Mother's Day activities in your classroom. However, do ensure that you celebrate whoever is special in your students' life. For many, this will be their mother, while some students may choose a family friend, their grandma, an aunty, or even their next-door neighbour! And that is okay!
A History of Mother's Day
Have students read about the history of Mother's Day. Your students may be surprised to know that historians have traced the holiday as far back as the 17th century. Using a Google Slides or PowerPoint template, assist your students in preparing a presentation of the history of Mother's Day.
Invite your student's mums (and other special people) to your class for morning tea and a presentation. Allow students to share their presentations with their mums and special people during this morning tea celebration.
Pro Tip: Break students into groups and allow each group to present a different time period. This will save presentation time on the day of the morning tea.
Mother's Day Themed Blackout Poems
A blackout poem is a poem that is created from an already existing text, like a newspaper. Learn more about blackout poems here.
Powered by Embed YouTube Video
Before beginning this activity, you will want to gather age-appropriate texts that have a loving or nurturing tone. First, explain to your students that they are creating a poem for their mother (or a special person in their lives). Show students examples of other blackout poems.
Pro Tip: For an extra layer of scaffolding, you may consider modelling your own blackout poem for students before they begin their own poem.
Then, have students read the text(s) you have selected. As students read, they circle words that they feel would describe their mum, or special person.
Lastly, they simply use a black pen, vivid or marker to black out the words that they do not want to include in their poem.
Photo-Based Writing
Have each of your students bring in a picture of their mum or special someone. This picture can be current, or it can be a picture from their own childhood.
Using the picture as their inspiration, have your students write a letter to their mum or special someone about how they feel about her. These letters can be sent home, or they can be distributed at an in-class celebration.
Pro Tip: If you have struggling writers, consider providing them with a letter template or with sentence starters (IE: I am proud of my mum because..) for this assignment.
Mother's Day Puzzle Poster
This Mother's Day activity poster will be perfect for the mum, mom or special one in your students' lives! The completed puzzle is sure to become a treasured memento for years to come. Interview, recording and listening skills are also introduced through the take-home questionnaire.
Engage your students' artistic flair with the wide range of activities provided in this resource. Display the amazing puzzles or send them home as a wonderful Mother's Day gift. Click here to see more. 
Mother's Day Digital Activities
This Mother's Day Digital Activity is an interactive and engaging way for your students to say HAPPY MOTHER'S DAY. We have included a full set of this resource with the two spelling options: mom and mum, and a separate set if students want to celebrate a "special person" – this way everyone can be included on Sunday, 10 May!
Students ask their mom, mum, or special person questions to complete the ten activities, culminating in a special puzzle that spells out "Happy Mother's Day" or "Have a Great Day!" Click here to see more.
Join our membership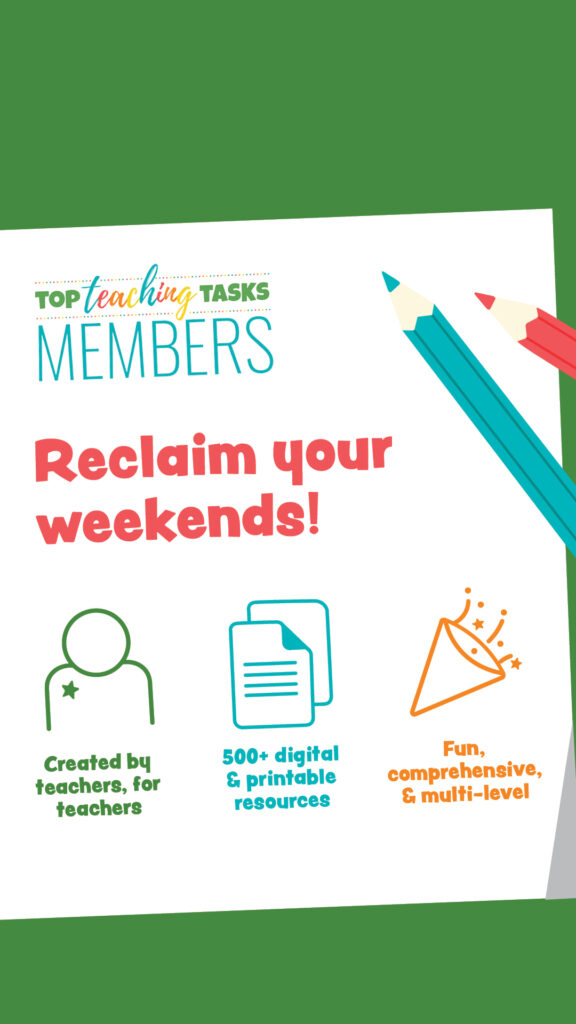 Onwards and upwards,